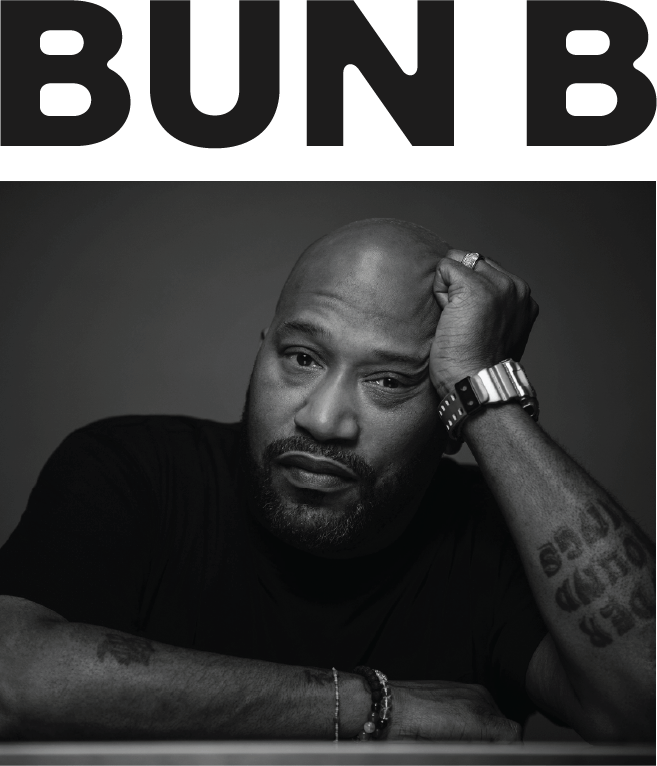 Houston, TX
/
Trill Burgers
It's been well over 25 years since Bernard Freeman—known better to the world as Bun B—changed the hip-hop landscape as one half of the legendary UGK alongside the late Pimp C. A lot has changed in those two and a half decades. While the Grammy nominated duo collectively delivered six classic albums and two EPs, Bun solidified his solo warrior status with five projects that embodied his Port Arthur, Texas mantra to keep it trill.
Bun B's rise to fame includes many milestones that not only represented Houston in the hip-hop world, but also carried them to unfathomable heights. From UGK's 1992 debut Too Hard to Swallow and their groundbreaking "International Players Anthem (I Choose You)" with Outkast 15 years later, to their cameo on Jay-Z's "Big Pimpin," Southern hip-hop was made better thanks to the Underground Kingz. And despite Pimp C's passing in 2007, his legacy lives on thanks to his partner in rhyme. As for Bun, his solo work speaks for itself.
In 2006 Bun B won an ASCAP Award for Top R&B/Hip Hop Song for his writing and performance on the single "Give Me That" and also holds an MTV Music Award for Best R&B Video for Beyonce's "Check On It" featuring himself and Slim Thug. His third solo album, 2010's Trill O.G. was met with critical acclaim, garnering five-mics from The Source and an XL rating from XXL Magazine, with guest appearances from Drake, Gucci Mane, Jeezy, T-Pain, and more. By 2013, he would release his last project before his musical break, The Epilogue, boasting big name collaborations with Rick Ross, 2 Chainz, and Big K.R.I.T.
As a professor of Theology at Houston's Rice University, Bun along with Professor Anthony Pinn led a course about Religion and Hip-Hop Culture, that in 2015 became available digitally. The course received nationwide media coverage, though for Bun it also fortified one of his personal goals. "Reestablishing my connection to Christ was one of the big things for me," he expresses. "It's something I wanted to really do again. I saw myself getting away from that." In addition, he wanted to be a role model to his family. "I have grandchildren now, so I wanted to make sure I was leading them in the right direction."
On top of academia, Bun released the Rap Coloring and Activity Book with Shea Serrano, grabbed a hold of lifestyle and sneaker culture with the Nike Jordans Classics program for young players, and showed the world his foodie side with the launch of the food blog YouGottaEatThis.com via the Complex Network.
When Hurricane Harvey hit in 2017, Bun was at the forefront of recovery efforts, furthering his philanthropic contributions. "When Hurricane Harvey was happening, I was just realizing how many families were gonna be devastated and how many towns and communities were going to be torn apart by this storm," he says. "I'm not a rich man or anything like that, so I was trying to figure out a way I could get the most resources and raise the most money and attention to what was happening. The word Telethon came to mind." He reached out to Justin Bieber's DJ Tay James who connected Bun with Scooter Braun, and the top music industry manager opened up his resources to assist in the effort. "He was a big part of getting the networks online and getting the acts together and helping us really flesh out this whole thing," Bun explains of Braun. The result was the Hand In Hand Telethon that ran concurrently in Los Angeles, New York, and Texas, raising $40 million. A second round of fundraising once the storm hit Florida and Puerto Rico brought in an additional $20 million dollars.
In August 2018, following his annual 3000-mile six-day trip for car rally Gumball 3000 (this time traveling from London to Tokyo), Bun B delivered Return of the Trill, a full length effort produced by Big K.R.I.T.. "K.R.I.T.'s not only an incredible artist, but he's also a fan as well and has a deep understanding of where I was trying to go with this album," Bun says of the Mississippi musician. "He also has a good ear for what the UGK sound is."
During the past couple of years, Bun has continued his involvement with local communities and community leaders in support of a wide variety of relief efforts. Most recently, he has worked closely with political leaders during the current presidential elections to help promote voting campaigns  and has participated in the organization of major rallies to honor the legacy of George Floyd and call for policing reform.
On January 1, 2021, Bun welcomed the new year with the release of the collaborative EP Distant with fellow Houston rapper LE$.  Recorded at Sonic Ranch, a studio located on a 1700-acres farm in West Texas,  the six tracks project was warmly received by media and fans, putting an end to a two and a half years music hiatus.
From selling millions of albums to Grammy nominations, changing academia, publishing, sneaker, food, and car culture, plus philanthropy, there isn't much that Bun B hasn't done. His greatest lesson learned? "Patience," he says. "I grew up in a world where the mentality is life is short, but as I've lived, I've learned that not only is life not short, but if you make the wrong choices, life can be long as shit." His mantra is simple and one that has carried him for decades and will do so for decades more. "Live for today," he declares, "but be smart in case tomorrow comes."