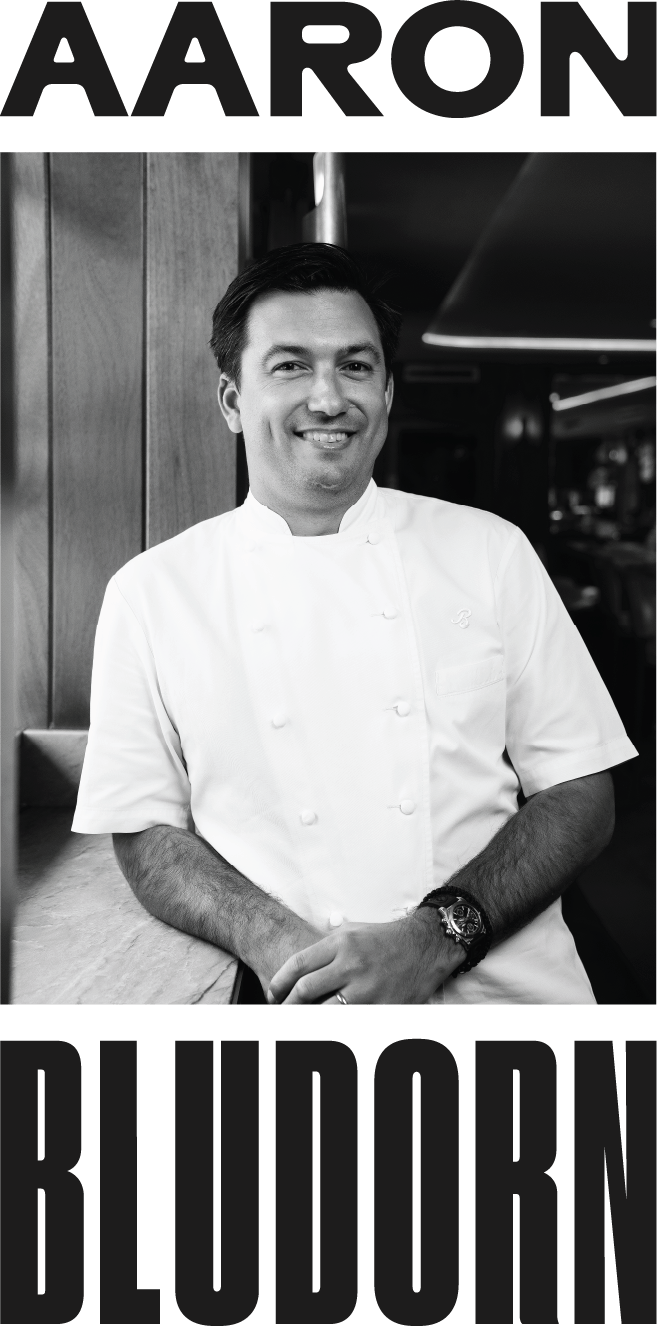 Seattle-native and Café Boulud alum, Chef Aaron Bludorn has planted roots in Houston to open his first solo venture. Following a prosperous career working under Michelin-starred chefs in Napa and New York, Aaron's career has led him to open Bludorn Restaurant; a sophisticated neighborhood eatery serving refined cuisine rooted in passion and integrity.
About Aaron:
Houston by way of the Pacific Northwest, Chef Aaron Bludron was drawn to food and hospitality early on. At the young age of 16, Aaron worked in a small diner on Bainbridge Island as a dishwasher and prep cook. He thoroughly enjoyed the fast-paced energy of the kitchen and fondly remembers working alongside the team and used his wages to pay for his music equipment. His passion for food and the industry ignited in his college years when Aaron moved to Arcata, California to attend Humboldt State. He worked at the neighborhood staple and vegetarian outpost – Wildflower Café where he was promoted to Chef and General Manager. Bludorn left California to attend the prestigious Culinary Institute of America (CIA) in Hyde Park and graduated in 2006.
Following graduation, Bludorn moved to California's wine country where as a young chef, he took a road trip through California to stage at various fine dining establishments until he found Cyrus. At Cyrus, Aaron spent three years working alongside Michelin-starred Chef Douglas Keene and absorbed Keene's mentorship teaching him about cooking with intention, excellence and integrity. When New York City beckoned, Keene encouraged him to seek out Chef Daniel Boulud planting the seed that his kitchens and guidance would lay the foundations Bludorn was seeking.
In 2009, Bludorn arrived at Café Boulud where he was introduced to recently appointed Executive Chef Gavin Kaysen, who was building a team of young, dynamic chefs. For 5 years, Aaron worked under Kaysen, and in 2014 earned the title of Executive Chef at Café Boulud. As a leader within Boulud's empire, Bludorn was devoted to mentoring the next generations of culinary legends and was deeply involved with the non-profit organization, Careers Through Culinary Arts Programs (C-CAP) where he served on their board.
In 2017, Bludorn was approached by Netflix to be cast in their upcoming blockbuster culinary competition show, The Final Table. For six weeks, Aaron along with his girlfriend and now wife, Victoria Pappas Bludorn, filmed the series in Los Angeles. That same year, Aaron was recognized by Star Chefs' as New York City's Rising Star Community Chef. Aaron and Victoria married shortly thereafter in 2018 and remained in New York where Aaron continued to work at Café Boulud. His culinary passion and drive fueled his dream to open his own restaurant, so in 2019, the Bludorns' made the joint decision to return to Victoria's hometown of Houston, Texas to open his first solo venture.
Aaron's experience and vision worked to crescendo the creation of his new concept where he plans to inject his flair in French-inspired Gulf coast cuisine showcasing the regions bounty using local ingredients and purveyors. With an emphasis on service, Bludorn will provide a relaxed yet sophisticated ambiance where guests can expect to experience fine dining, excellent wine and an inviting atmosphere to liaise among family and friends.
When not in the kitchen, Aaron is an avid outdoorsman. He enjoys bike riding, kayaking, snowboarding and hiking. Bludorn and his wife, Victoria enjoy exploring the local farmers market and catching the occasional concert at Houston's many venues. He and his wife have a strong community of friends and family in Houston and are expecting their first child together in November 2020.